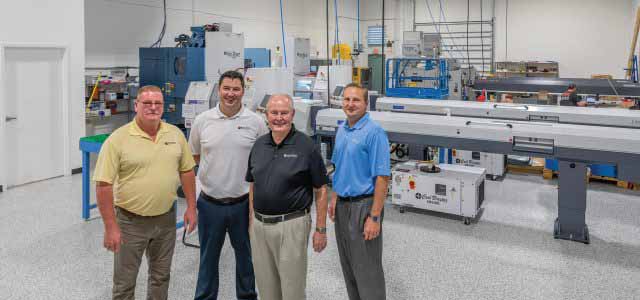 From the outside, you might believe industrial parks are boring.
Indeed, many appear to be filled with plain-vanilla distribution buildings whose most eye-catching features are loading docks.
But if that's your perception of industrial parks, you haven't met John McGarvey.
Through his commercial building companies, McGarvey Development Co. and McGarvey Construction Company of Florida, McGarvey is known as one of the savviest and most creative industrial-park developers in Florida.
That's because he's defied the rules of building and leasing industrial space by attracting a wide variety of tenants, some which you might never expect to find in an industrial park. Along with traditional distribution and manufacturing companies, McGarvey has signed office users, breweries and even sporting venues.
Case in point: SouthLinks Business Park in Bonita Springs at I-75 and Bonita Beach Road, one of the most successful industrial parks in Florida, filled up several years ahead of its projected buildout.
McGarvey's all-tenants-are-welcome strategy has created a well-diversified mix of businesses. As builders and developers learned during the 2008 recession, that diversification is one key to riding out economic downturns.
Now, with SouthLinks full years ahead of schedule, McGarvey is launching a second development project called CenterLinks Business Park at Three Oaks that promises to be equally successful. Located along Oriole Road near Alico Road and west of I-75 in Fort Myers, CenterLinks will offer 600,000 square feet of space for a variety of tenants on 42 acres. That's enough space to fill more than 10 football fields and is nearly three times the size of SouthLinks.
While the COVID-19 pandemic presents economic challenges for all developers, McGarvey sees opportunities associated with market shifts. For example, warehouse and distribution buildings are in high demand from consumers migrate to online buying.
"To bring new product out of the ground now is a testament to John McGarvey's skills as a developer and understanding the market and what tenants require," says Jeff McGarvey, marketing and sales director at McGarvey Development.
HOW SOUTHLINKS BECAME SUCCESSFUL
To preview the CenterLinks strategy, it's useful to consider what McGarvey did at SouthLinks.
For example, when Jeff Davis approached McGarvey about building a 63,000-gallon swimming pool inside a warehouse for his Goldfish Swim School at SouthLinks, McGarvey didn't blink — instead he jumped into his car. "He drove over to Pembroke Pines to see what the concept was and he drove back and said, 'We're all in,'" Davis recalls.
Goldfish Swim School is a franchise that teaches children how to swim in a 90-degree indoor heated pool with a tropical beach theme that includes palm trees and tiki huts. Before Davis opened the first Goldfish in Southwest Florida, the closest franchise was in Pembroke Pines.
The industrial park has ample parking. McGarvey completed the project in less than six months. "You can see our sign from Bonita Beach Road," says Davis, noting five McGarvey family children are now registered for lessons there.
Another unexpected tenant at SouthLinks is Momentum Brewhouse, a microbrewery that includes a tasting room. "We needed to be in a mixed-use space, with room for customer parking and for trucks loaded with grain," says Brian Hahn, founder of Momentum.
While the beer-making part of the business is an industrial process, the tasting room required fine craftsmanship to build the bar and create an upscale ambiance akin to a restaurant. "We knew instantly this would be a good relationship," Hahn says. "He builds high-end custom homes too, so based on his portfolio I knew the attention would be there and that was important to us."
Rental rates in industrial parks are significantly lower than comparable retail space. Plus, parking is always more difficult in retail centers. "To find something that has parking and an industrial feel is hard to find; we have 60 spots in our corner," Hahn says.
Of course, SouthLinks has traditional manufacturing tenants such as Shaw Development, a maker of fluid systems and tools for bulldozers and other heavy equipment. "They were one of the first tenants at SouthLinks with 25,000 square feet, and now through growth and expansion within South- Links they're occupying 68,000 square feet," says Jeff McGarvey.
Six of the 10 buildings at SouthLinks are full of tenants. Four more buildings are under construction with tenants lined up since development began there in late 2017. In fact, the developer initially planned to complete buildout by 2023, but is finishing about two years ahead of schedule. "We can't build it fast enough," says Jeff McGarvey.
INSIDE THE GOLDEN TRIANGLE
Emboldened by the rapid success of SouthLinks, McGarvey set his sights a few miles north to develop CenterLinks. He is launching the project with two speculative buildings that have already attracted significant interest.
"An office user is looking to take a good chunk of space in our first 37,700-square-foot building," says McGarvey. "We've also seen a lot of manufacturing knocking on our door for this product."
McGarvey builds "flex space" structures suitable for virtually any user. Using concrete tilt-wall construction and impact glass rated to withstand hurricanes, these efficient buildings are visually attractive for office users and functional for manufacturers.
With rents in the $7 to $8 range, net of common-area maintenance fees, office users can save 50% or more compared with rents in traditional upscale office space. "There's a reason we build flex space: We can accommodate any tenant," McGarvey says.
Of course, location is the key to success in real estate.
Real estate brokers deem the CenterLinks area to be a part of the socalled "golden triangle" that extends roughly from Colonial Boulevard south to Southwest Florida International Airport and Florida Gulf Coast University, and west along Alico Road to U.S. 41.
"There's significant commerce going on in that area," says Adam Palmer, principal and managing director at LandQwest Commercial Real Estate Services, who is handling leasing opportunities there.
The availability of land for development and easy access to I-75 and the airport makes the area hugely attractive for companies that need to distribute goods throughout Southwest Florida. Because the industrial park is 42 acres, there's more parking than at congested office or retail centers.
"One thing that stands out exceptionally well is that there's not going to be another distribution option like CenterLinks," says Palmer. "For those who are focused on windshield time, you'll be right on the interstate."
Article Link: https://suitelifemagazine.com/developer-rides-success-with-new-industrial-park/